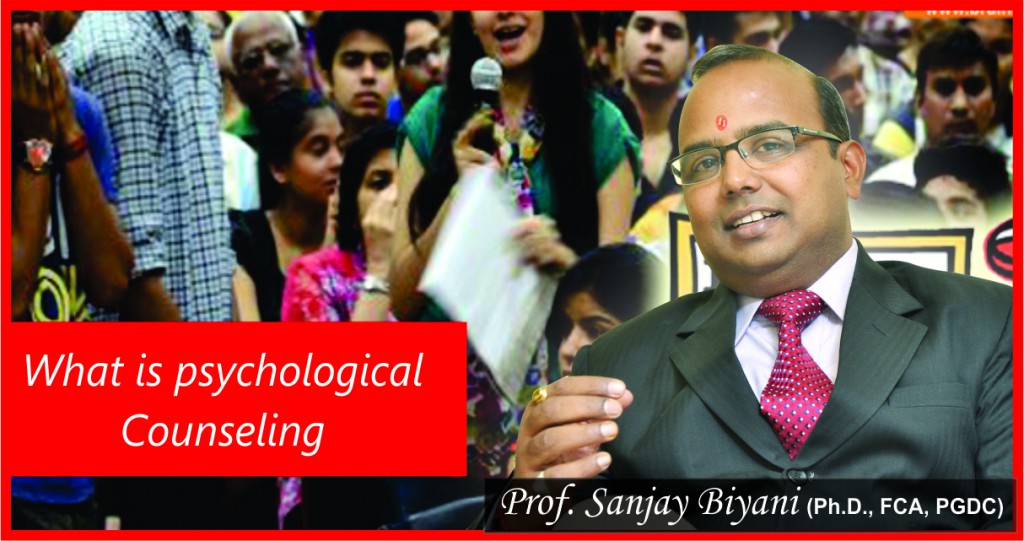 What is actually psychological counseling?
As now a day's students have appeared for their board examinations and beard a lot of exam fear, stress and tension. They are captivated by a common thought that what I want to become as there are so many counselors around them in the form of parents, relatives, neighbours, peers and many more. Also out of the 700 crore population we need to understand that every individual bears a unique personality and obviously they all have different potentials and interest. Therefore, psychological Counseling aims to assist people control their difficulties and transform personal troubles into their own personal growth.
In India the small towns are totally neglected in this context whereas in metro cities this concept of psychological counseling has captured interest.
Is psychological counseling meant for some students or group of students? If no then is it appropriate for each child?
Actually psychological counseling is the process to know or realize whatever is running inside, at our unconscious state of mind, our interests, passions and desires which ultimately gives us happiness and satisfaction. For example, if someone asks me how the moon looks like, I will tell something about it, you will understand something else and the third person listening to the meaning will interpret in some other way.
Although all the three will be correct in their own ways and so their interpretations will depict automatically the type of personality each one possess.
Similarly we show students' different pictures and they all interpret them in their own ways. With the help of such exercises we get to know about their personalities and their interest areas. And hence accordingly can categorize them.
For choosing a vocational course how much it is important to consider or consult a psychological counselor i.e. when a child should approach for Psychological counseling?
The child should approach after 10th standard because at that time the child is mature enough to take decisions but if not possible for any reason should approach during 12th standard.
You have been dealing with many students from long time that face problems during career selection because of parents, neighbors, relatives and peer pressure. Generally what kind of general troubles students face?
General problems that I have observed specifically in girls are the fear element and that too in excess. There exists a phobia pertaining to exams and to the society which develops an inferiority complex. The students which are fearless can perform better and are more successful.
Those who have fear their life is full of troubles. The main reason of fear is lack of faith. In classrooms students doubt their teachers, they doubt god and hence their power to believe is very poor. In youngsters the reason for their declined efficiency is lack of faith. For becoming fearless the main key is to increase the faith. Therefore, the more is ones faith, the more one can become fearless. If you want to see how big or successful a person is one should see how much faith that person bears. Higher the faith higher will be the personality & vice versa.
Why there is a lot of fear among students despite of all requisite facilities provided like best courses, colleges or universities?
No matter what religion on belongs to but our youngsters lacks faith, they don't trust god. It has been proved through Newton's Law whatever you give you will receive the same. The moment the youngsters will start trusting they will gain confidence. It's simple if you start trusting you will gain faith for yourself.
For the students hailing from small towns and villages how can they be benefitted through psychological counseling?
We are very concerned for youths and their career related problems. In Biyani Group of colleges, Jaipur we have established a counseling cell in which a student categorized on the basis of their performance tests and accordingly we help and guide students.
Author:Dr. Sanjay Biyani(Director Academic)
To know more about Prof. Sanjay Biyani visit www.sanjaybiyani.com