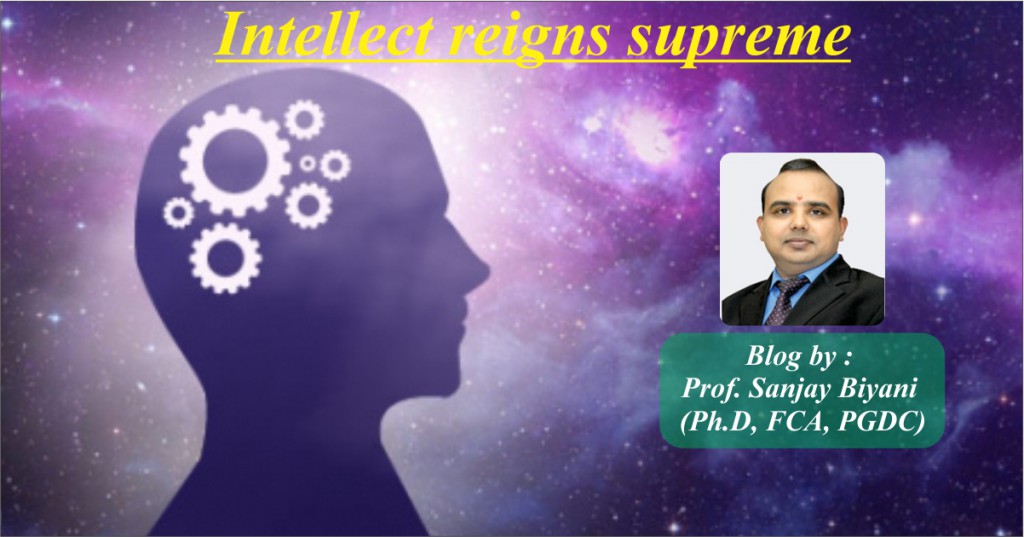 Let us welcome 2016, another new year and do something new. As of now we are taking decisions with our mind (मन) but now let us take decisions with our intellect.
Actually mind (मन) thinks but it's the  intellect that takes decisions. Intellect is situated in our body at the point between our two eyebrows where we put tilak where Agya Chakra is situated.
We should make our intellect very powerful so that it can take right decision and can set our mind on the  right track. Only 5% people take decision through intellect where as 95% people take decision through their mind (मन).
But till the time we cannot take decisions with our mind (मन) and till we gain our wisdom we lead the life of an animal . Vivekananda said "We are here not to eat, drink make merry and pass away".
We should have awareness and give thanks to God because all our five senses are normal. We see outside world through these five senses.  Behind these five senses we have our mind (मन). This mind (मन) also should be normal and powerful but our intellect should be able to control our mind (मन). This intellect is governed by our soul and soul is connected with God, failure comes because we are doing according to our mind only if we focus on intellect, we become successful. There are very few people who use  their intellect and get wisdom. For example Mahatma Gandhi, Vivekanand . Others live like common people and die one day whom world doesn't even remember.
We should not be slave to our mind (मन), we should be the  master of our mind (मन). We should be able to take decision with our intellect, then only can you do something new and big.
Promise to yourself to become intelligent and take decision with your intelligence. Try to read good literature of our country. Gita is the best book which can give you solution of  day to day problem. It can develop your wisdom. Be proud to be an Indian and try to know more about Indian culture, literature and you will be surprised that India is very rich in spirituality. Whole world looks forward to India for her spiritual values. People from outside come to India to learn yoga and meditation.
So let us meditate now and channelize our whole body with positivity by chanting the mantra in the right way.
By- Prof. Sanjay Biyani
Ph.D, FCA, PGDC
(Message for morning assembly dated 4 Jan, 2016)
To know more about Prof. Sanjay Biyani visit www.sanjaybiyani.com