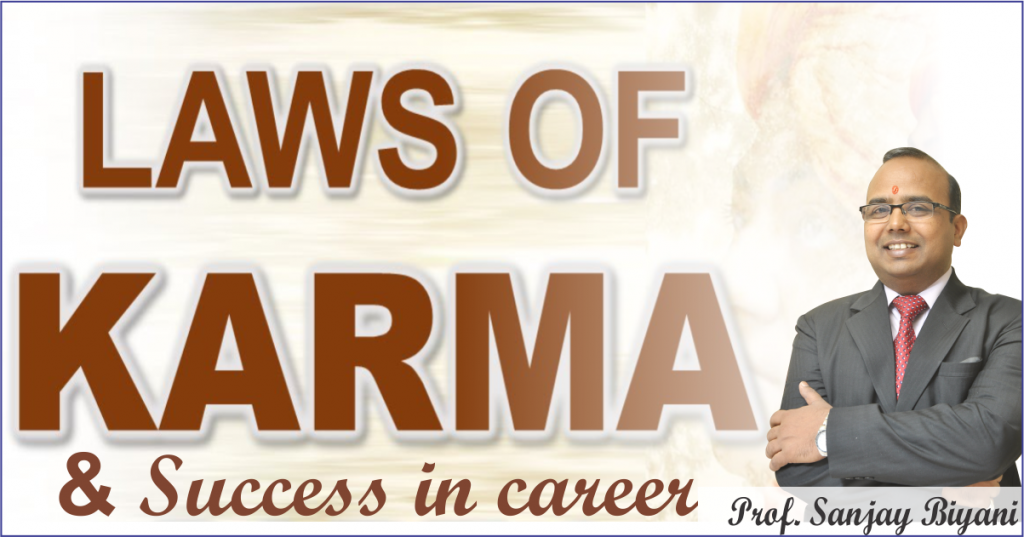 What is Law of Karma?
The word "Karma" has been in our holy books and is considered to be the most powerful law in the whole universe. We all pray to Lord Ganesha, to start our day or new work. Lord Ganesha actually explains or signifies the law of karma. The right hand of Lord Ganesha is in the position of performing an action and left hand reflects reaction.
Therefore, Law of Karma is somehow performing actions without attaching our self with its outcomes or reactions.
How can we relate Law of Karma in career and what is its role in shaping career?
Our youth usually can't focus on work for long duration of time and hence often gives up easily. Therefore, they need to be taught the importance of this law and how to implement it in shaping their successful life and career.
We can make our career successful by applying law of karma. Elaborate the statement?
Any student appearing for exams focuses his 50% energy on results. Therefore, his actions are half dissolved with the tension about the reaction or results of his performance, because of his attachment with action reaction chain. For example, while watching 20-20 cricket mostly people get excited when their favorite team or player scores well and feel disappointed when their teams loses wicket. So, they should only enjoy good game and should not get attached to any specific team or player. This way they can enjoy their time, game and hence can enhance their energy. But unfortunately, we all focus on results and gets disappointed whenever they are not as per our expectations. We should accept and adopt Law of Karma as narrated by Lord Krishna, which states that, we have to get detached with the results and keep doing the needful action consistently. We have to make our actions as our true religion and then that attitude can help us in attaining internal peace and satisfaction.
How one can perform action in right direction?
Whenever we start any work, it should be started with complete faith and hope that we will be successful as we are the powerful creation of god, blessed with intellect, heart, emotions and courage to do anything.
So, we should start any work we do with positive attitude, belief and hope. Also at the same time following the right direction according to one's interest and doing action consistently is also very important. The luck factor is against law of Karma. It has never been prescribed in any inscriptions of any religion that one should focus on luck only.
A person who has adopted law of karma completely will be successful and will always lead towards their goals effectively.
Being a counselor you must have interacted with many people, what do you think how many people actually believe and apply law of karma?
Usually everybody believes in destiny than on law of karma. It s a universal truth that whatever action we do on this earth will bear its reaction for sure. Like if we plant a tree or cut a tree both ways the action will be followed by a reaction definitely. There is no such action in this universe which is not followed by a specific reaction.
We all celebrate "Jnamasthmi", the birth of Lord Krishna, every year but unfortunately hardly anybody actually realizes the essence of his teachings. Lord Krishna defined law of karma in beautiful words,
"Karmanye Vadhikaraste, Ma phaleshou kada chana,
Ma Karma Phala Hetur Bhurmatey Sangostva Akarmani".
That means that we have the right to perform our actions, but we are not entitled to the fruits of the actions. Also, we don't have to let the fruit be the purpose of our actions, and therefore we won't be attached to not doing our duty.
Therefore, the awareness has to be created within us for inculcating the law of karma in our lives.
What is the best way of overcoming the habit of blaming luck for every failure?
The only best way is to accept karma as the true religion, follow a right direction and keep doing the requisite action. I believe we can extract water from the desert if we believe that we can do it. Failure should never be denied as it comes with some learning experience. This learning is actually living life in true manner.
Dr. Sanjay Biyani(Dir. Acad.)
To know more about Prof. Sanjay Biyani visit www.sanjaybiyani.com