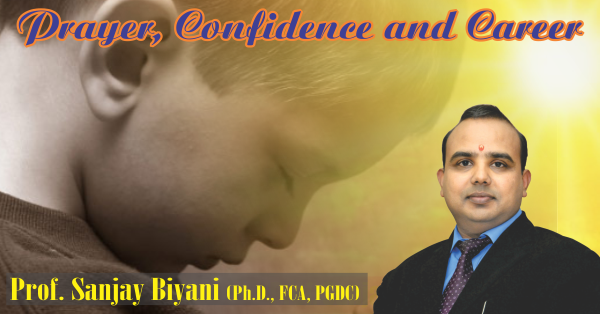 What is prayer and how it is related to confidence?
There is a deep correlation between prayer and confidence. As we all know about Newton's Law which is well accepted universally, are to it whatever we give we will get back the same. (Every action has equal & opposite reaction). Due to this phenomenon everything on earth is growing and flourishing. Whenever we show faith on someone it enhances our confidence. Therefore, Prayer is a system adopted by all religions, which is actually our psychological faith of realizing one's Karma and after performing the same and leaving its result to god i.e. giving credit to God. This process we don't bother about results and keep doing our deeds without any expectation. It not only salaries our mind but also enhances our confidence.
If we wish and pray something related to our career, how it can boost our confidence and how can that confidence be beneficial in leading our life?
It's a wonderful question. It's like for example if we prayed that for my good career, I have to score more than 80% marks and hence accordingly performed the requisite course of action, After that I surrendered myself to God by saying that I have put my best efforts and hence whatever may be the result, It is all surrendered to you. God owes all the credit of my Karma.
With this mindset a person will be stress free and can perform his best. Our scientists have not been able to explore the universe completely expect only 5% of the nature have been explored. Therefore, if we keep our self free from the credit for our Karma. We only have to focus on our work and putting our best effort to accomplish it then the terrible trouble of ego will not haunt people. Now a day's youngsters have become too much egoistic, they have been rigid to status symbol that they are preferring high profile friends, colleges, brands etc. They are not humble and by draying one can become humble & polite.
Do with praying only man becomes humble and if yes how, as sometime we feel our prayers were not fulfilled?
Sometimes prayers are not fulfilled because that time the person praying did not actually deserve. As good grand our prayers & wishes not according to our wishes not according to our wishes but according to what one actually deserves.
It's just like when a child wants to play with a matchstick but parents don't allow him for it. That time the child will feel that they are not fulfilling his desire but parents know the child is not eligible enough to handle the matchstick and hence have futuristic perspective.
Hence, we have to enhance our eligibility and make ourselves deserving for getting what we seek from almighty.
Being a counselor have you realized that due to putting requisite effort for what we desire actually develop our confidence?
Definitely, I have experienced during my counseling session that people who have been not in a practice of praying always carried fear and low confidence level.
If we have to excel in career we have to be focused, have to put continuous effort in right direction at right time. Also prayer makes us stress free as with praying we relieves our self from the credit or result of our deeds and don't bother about success failure much.
Practically how much one can get benefited with prayer?
Ans. Whenever we pray, we how in front of God, parents and teachers, due to which we become humble and gain knowledge. With knowledge we can resolve all the problems of our life effectively. It means that there is a direct relationship between problems of our life and prayer. Today 80% of children are away from prayer, they have fixed schedule, for everything but, don't have the same for prayers. Whenever, and wherever they feel like they do it. They have taken prayer for granted and due to they lack in self confidence.
Can you share any personal experience of yours, where you prayed for something, worked hard for accomplishing it and finally you got the same?
Exactly, when I was preparing for my CA exams, as I was not personally interested to do it but my parents wanted me to do it. I was very stressed at that time as everybody was focused on my results. At that time I prayed and focused on my actions and appeared for exams. I was confident enough but in my last exam I lost my confidence and decided not to appear for the exam but my family told me not to focus on the result and surrender my deeds to God. So, I did the same and regained my lost confidence. Finally, I appeared for the exam and successfully qualified my exams. Therefore, it is important to understand for each & every student that whenever they are appearing for exams don't get stressed with the results of the same rather, surrender your results to God and just focus on putting your best efforts.
Dr. Sanjay Biyani(Dir. Acad.)
To know more about Prof. Sanjay Biyani visit www.sanjaybiyani.com