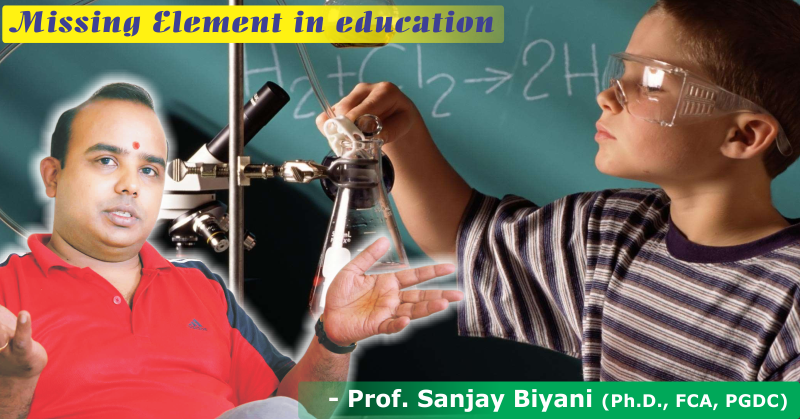 What are missing elements in the career of a student?
I have researched thoroughly and found that the element missing is about the main question, "why we are on this earth, what is the purpose of our life?"I feel if our youth will find the answers for these questions then they can attain whatever they want and won't depend on anyone for their decisions.
Can we trace missing element problems during the childhood?
Often people encounter some circumstances which mould their behaviour. If someone has faced acute financial crisis then they will grow with an attitude and determination to do something. Now a day's due to nuclear families parents pamper their children a lot. They are kept away from all struggles of life, which has somehow diluted their vision for future and hence made them depended on others. The day a child will realize on his own what the purpose of his life is, and then there will be no need of any external efforts. The child will find his way successfully.
Which factors in missing element really affect the career of a student?
Firstly of all parents, then students and finally the teachers have to make efforts in creating a burning desire to accomplish their goals which they will realize after understanding the worth of their life. After that it is important to identify the child's interest and according to that his capability. Like if someone is bearing logical mind should be provided opportunities in logical field and so is for creative thinkers.
What should be done after setting a goal and how it can be accomplished?
Setting a goal is just like preparing boggies for a train because without a powerful engine the train won't be able to proceed further and hence setting a goal will not be fruitful unless and until the child has burning desire and enthusiasm to accomplish the goal.
Therefore, after setting a goal a child need to put a lot of dedication and hard work to accomplish any goal.
How can we join all the boggies of the train to success as there are various elements like social groups, teachers and parents? Therefore, what kind of preparation is needed on students' part?
We have never focused on the fact that why we have been on this earth. We have to ask our self that do we live to eat and sleep then what is the purpose of being a human being we can do all that even though if we were animals then why do we have been blessed by human life. And if I'm a human being then I have to prove my worth and accordingly will set the goal of my life. Once such an insight is gained by a student then they won't be in need of any coaching institute etc.
Secondly the parents can also contribute in the transformation of students for setting their goals. Parents have to poke their wards time to time if they are not conscious enough for their goal. As Lion will never realize its power unless and until someone pokes it otherwise it will be a source of entertainment in the circus and lifelong won't realize its potential of being the king of the jungle.
How to accomplish the main three steps mentioned above and some tips for success in career?
The most important and powerful trait in human is their burning desire, will power and dedication. Due to these traits Bill Gates, DhiruBhai Ambani, Albert Einstein and other eminent personalities were able to accomplish what they always dreamt of. Purpose of life is missing in students now a day therefore, education is lacking its essence and there is need of teachers and parents continuous efforts to help the students realize the real purpose of their life. Without purpose the life of the students is vague and directionless.
Dr. Sanjay Biyani(Dir. Acad.)
To know more about Prof. Sanjay Biyani visit www.sanjaybiyani.com