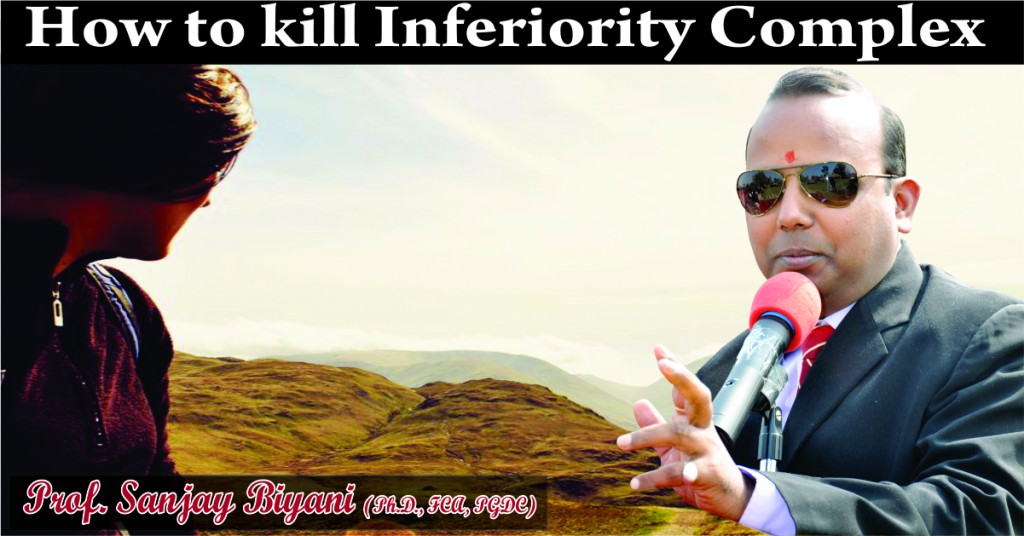 What kind of inferiority complexes are there in students?
Actually it is a disease and is found commonly in youth who have just joined college. They suffer from a strange fear and is an obstacle in their life. A person suffering from inferiority complex always focuses on his/her weakness but never count his/ her strength. In my book "Positive Thinking" I have discussed how in how inferiority complex is a disease and how it hampers a person's growth.
How can we overcome this complex?
God has blessed everybody with some unique qualities. Some can run very fast, study and understand things very easily but some can't do the same. Due to such things people grow with inferiority complexes and it haunts them for the entire life.
What is the basic reason a child or a person focus more on negativity?
Its human nature, they prefer to stay in a comfort zone. With time person grows with a fear that what people will think about them. Therefore, they try to hide themselves and prefer to stay aloof. Due to all this the whole energy of a person is focused and utilized on this complex, that how and when people will judge them.
Humans have two options in that context:
First is a person should accept his inferiority complex and should spend their rest of their life with that. Unfortunately, there are 90% people falling in this category.
Second category is of the remaining 10% people who with their hard work, dedication and strong determination overcome their inferiority complexes and learn to excel. That's why some are not blessed with good voice but are very creative in other ways.
How one can raise oneself to that level where they can achieve the goal that they want to and actually deserve to attain?
I always quote in seminars and discussion one of my thought that, "Only those can win who actually feel that they can win". The day a person starts focusing his qualities and strengths his attention towards inferiority complex is automatically diverted and they no more suffer due to it. I would like to advise all youngsters that god has blessed them with some unique qualities and traits. They should try to realize them and utilize them in strengthening their personalities and overcoming inferiority complexes. As it blocks energy therefore, we should try to build our superiority power in ourselves.
As a counseling expert you might have identified reasons for inferiority complexes in students. Actually what are the main reasons for inferiority complexes in students?
The main pressure on students is of scoring maximum and attaining first rank in the class. We know practically that is not possible as out of many only one student can top in the class and due to which automatically other students will suffer from inferiority complexes. Actually, this is a matter to be reconsidered by the education system as how can scoring in an exam depict a student's excellence or strength in a specific subject.
It is an innate capacity of each student to learn or use logical reasoning. Therefore, students have to be very conscious while choosing for career courses, keeping in view their strengths and interests. And if students really follow it then they can attain success in all ways.
What will be your advice for students for dealing with inferiority complexes and who can be the best influence for students in realizing that they should not rate themselves inferior than others?
For students only two people are more concerned:
 Parents
 Teachers
For both parents and teachers the students should have complete trust. The students have to devote themselves completely to both parents and teachers to learn in an effective and efficient way. A person can realize their strength after that only they can be successful. Specifically girls have to realize their power and strength so that they can prove their worth and make remarkable place in society.
Dr. Sanjay Biyani(Dir. Acad.)
To know more about Prof. Sanjay Biyani visit www.sanjaybiyani.com